Featured page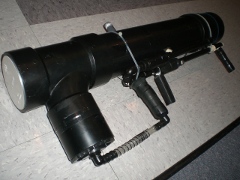 Now here's a water gun that means business. In this report, contributor JLspacemarine shows off his CPS Custom Assault Rifle, which features an onboard water reservoir, a spherical rubber bladder, a functional trigger system, and a nifty black paintjob. Check it out!
Recently updated articles
Welcome to Super Soaker Central!
Super Soaker Central is a water gun website featuring (now closed) forums, homemade water guns, modifications, repairs, water gun design information, tactics, war stories, reviews, and much more.
The website has seen few updates since 2008, but we are currently planning some changes for 2020.
News
We have recently (September 24, 2018) switched servers while remaining at the same host. Because much of our software was outdated, I had to rewrite the website backend and convert the forums to phpBB.
The SSC (Super Soaker Central) forums are still online at their original URL (http://forums.sscentral.org/). The forums link in the header now points to WaterWar.net. The original SSC forums will eventually be imported into WaterWar.net's forums.
From here on, SSC will be a location for curated water gun content, particularly related to water gun engineering.
Eventually, we will be transitioning back to the sscentral.net domain, which I acquired a few years ago. We'll adjust the site to make it work better on mobile. The ads will be removed once we get the next payment, which hopefully will be before next summer. We will also change the backend of the site again to make updating the site easier, but this will not be apparent to users. The website also will slowly be updated, but with hundreds of pages and only two active webmasters who have other responsibilities, you'll understand why this will be slow.
For the latest updates on the SSC forum move, check WaterWar.net.
Ben
SSC head webmaster, 2003-present