Featured page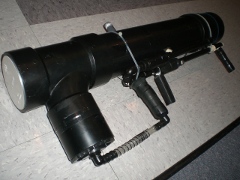 Now here's a water gun that means business. In this report, contributor JLspacemarine shows off his CPS Custom Assault Rifle, which features an onboard water reservoir, a spherical rubber bladder, a functional trigger system, and a nifty black paintjob. Check it out!
Recently updated articles
News
Written by Ben on 10-24-2015
Please take our survey (https://docs.google.com/forms/d/1cd9N9VPBIBtLxRCRNrI1BYXyQaKlYbyiW5ZkRDAVtMw/viewform) about homemade water guns. This will be used to help improve the guides at SSC and also make new homemade water gun designs that better serve those interested.
[Read On]
Written by Ben on 12-03-2011
The forum is now in archive mode. Registration and new posts are disabled except for moderators and administrators. A list of questions and answers is in the next post.
[Read On]
Written by Ben on 11-24-2011
As had been detailed before (http://forums.sscentral.org/showthread.php?t=6650), these forums are too old to maintain well. When I have the time in December, I will disable new posts and new user registrations and set up some appropriate notices to funnel those interested in water gun discussions to WaterWar.net (http://www.waterwar.net/site_wwn/board/). It's been a good 8 years, but everything must come to an end, and this is the end of the SSC forums. This also means the end of active development of the SSC website, which admittedly has not been updated much in the past few years. Please note that the forums will remain online for as long as I can manage. They will merely be set up as an archive. I do not guarantee that the forums will remain online indefinitely, so please backup anything you find has value.
[Read On]
Written by Ben on 09-13-2011
A week and a half ago someone uploaded a new index.html file to our images subdomain. I believe this was due to the permissions of the public_html directory being too permissive as there is no indication that the hacker knows any of SSC's passwords. I have changed the appropriate passwords regardless and have removed the file. Firefox and other browsers may report that images.sscentral.org is an attack site because of this hack. I'm working on fixing that. Edit: This was fixed rather quickly.
[Read On]
Check out the entire news archive here, or subscribe to news updates using RSS or Atom.