Super Soaker CPS 2100
Last updated on 2008-06-01
---
CPS 2100
Images: 1, 2, 3
Product Details
Specifications
Manufacturer
Hasbro
Type
Spherical CPS
Release Year
2002
Reservoir Capacity
2000 mL (68 oz.)
End Year
2004
Chamber Capacity
600 mL
Availability
Discontinued
Pump Capacity
Original Price
Shots Per Tank
Typical eBay Price
Pumps Until Full
19
Line
CPS
Weight Empty
Patents
Weight Full
Marks
4
Dimensions
23 in. x 11 in. x 5 in.
Nozzle
Level Range
Angled Range
Average Output
Shot Time
5x
ft
ft
5.17 oz/s
4 s
m
m
150 mL/s
Neuro's Review
This is a very unique gun. Even though it was made in an "even" year, where Larami usually remakes old soakers, this blaster looks like nothing before it. It has quite a bit of embellishment, although the yellow "tube" on top does serve the purpose of housing some 3/8" tubing. Note also that this is the smallest soaker ever to feature a tracked pump. Mine usually gets stuck after prolonged periods of non-use, but this is a minor setback, a little tug and the problem's solved. I was really surprised at how quickly the pump fills up the reservoir, it only takes about 17 pumps. The pump is a *little* harder to use, so I'd imagine that's why. The trigger is very smooth, it will only make a lot of noise if you pull it too hard. This gun has very high output, you get about 3.5 shots out of the reservoir. The 7.5x nozzle is a perfect medium, the spray is quite even. Contrary to what iSoaker is saying, I don't see any shotgun effect on the blaster, must be an instance-specific thing. I got mine off eBay too, so I don't know, it might have been "damaged" in shipping, although I see it as an improvement. Also, this soaker seems to have a tendency to build up quite a bit of moisture after intense use, so watch out for that! This is an all-around good soaker, with enough range to outblast anything under a CPS 1200. Just be wary of using too much water.
Drenchenator's Review
The CPS 2100 is a very good gun overall. It is not too large, too small, too heavy, or too weak. The tracked pump makes the gun feel incredibly solid. It performs well; its range is in the 40's and its output is a solid 5x. The gun lacks a strap: a problem that can easily be fixed.
Other Sites' Reviews
Marks
| | | | | |
| --- | --- | --- | --- | --- |
| Mark | Year | Edition | Performance | Differences |
| 1 | 2002 | Original | Superior | Pump cap not glued on; seam at end of reservoir; smaller ridges on reservoir cap. |
| 2 | | | Far Inferior | Fake nozzle head; pump cap glued on; seam at end of reservoir; extremely hard to open; smaller ridges on reservoir cap. |
| 3 | | | Inferior | Ridges at end of reservoir; pump cap not glued on; pressure chamber is larger; center part of nozzle attached to internals and casing; easiest to modify; larger ridges on reservoir cap. |
| 4 | | | | Mixed attributes of the above marks. |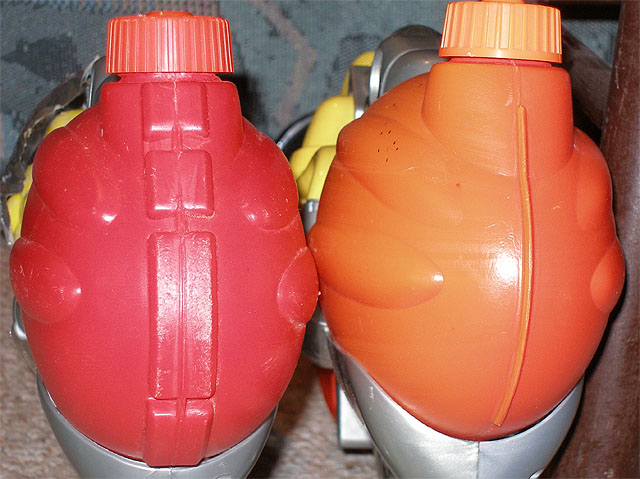 Left, the ridges, indicative of a mark 3; right, the seam, indicative of a mark 1 or 2.

Left, larger ridges, indicative of a mark 3; right, smaller ridges, indicative of a mark 1 or 2.
Credits
Pros
Cons
Media
Modifications

Review and Pros/Cons by Neuro
Review by Drechenator
Statistics by The Dark Annihilator
Photos 1 and 3 by Ben
Photo 2 by Duxburian

Nice output
Good range
Easy to sight

Hard to pump
Skimpy reservoir capacity
Bright yellow makes it easier to see than I'd like
No strap
---