Super Soaker CPS 2500
Last updated on 2008-01-23
---
CPS 2500
Images: 1, 2
Product Details
Specifications
Manufacturer
Larami
Type
Cylindrical CPS
Release Year
1998
Reservoir Capacity
End Year
1999
Chamber Capacity
Availability
Discontinued
Pump Capacity
Original Price
Shots Per Tank
Typical eBay Price
Pumps Until Full
Line
CPS
Weight Empty
Patents
Weight Full
Marks
3
Dimensions
Nozzle
Level Range
Angled Range
Average Output
Shot Time
5x
ft
48 ft
5 oz/s
s
m
14.63 m
150 mL/s
10x
ft
48 ft
10 oz/s
s
m
14.63 m
300 mL/s
20x
ft
45 ft
22 oz/s
s
m
13.72 m
660 mL/s
Neuro's Review
Sorry, but I have to say now what every reviewer of the CPS 2500 has said: for a CPS 2000 replacement, it's not too powerful. Granted, Larami could have gotten in huge liability suits, but still. A little more power wouldn't have hurt. The nozzle selection is great, it picks up right where the 2000 left off. One drawback: this thing is HEAVY. Did I mention it was heavy? I suppose that's why they included the classic large-CPS shoulder strap. Another thing that could have been better is that the plastic above the trigger has a little seam in it. This, unfortunately, has produced quite a number of small cuts on the up side of my thumb. This makes your next use even more agonizing on your poor little thumb. As a certain friend of mine would say, "Just battle scars." This gun can also have minor leaks where the nozzle meets the barrel, but this is a minor setback. This is just a really great gun.
Other Sites' Reviews
Marks
| | | | | |
| --- | --- | --- | --- | --- |
| Mark | Year | Edition | Performance | Differences |
| 1 | 1998 | Original | Equal | No labels on nozzles. |
| 2 | 1999 | Rerelease | Equal | Labels on nozzles. |
| 3 | | | Equal | Purple reservoir cap; logo on opposite side; lighter color tank. |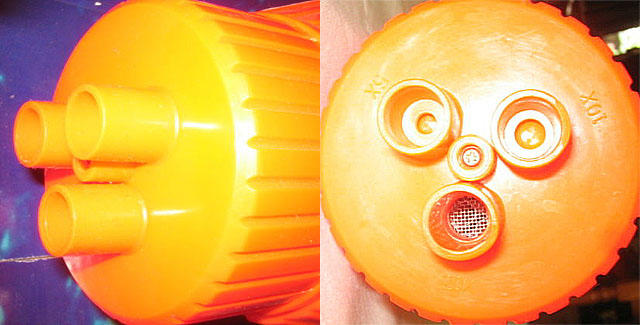 Left, mark 1, no labels; right, mark 2, labels. Images provided by Aqua Flash.
Credits
Pros
Cons
Media
Modifications

Review and Pros/Cons by Neuro
Statistics by ZOCCOZ
Marks Images by Aqua Flash

Great range and power Sturdy pump Everything but the nozzle and pump is nondescript

Can sometimes leak below the nozzle
Very heavy
Can sometimes give thumb cuts
---